Metode Maserasi Berbantu Gelombang Ultrasonik untuk Ekstraksi Pigmen Merah-Ungu dari Enam Varietas Bayam Merah
Keywords:
maserasi, bayam merah, gelombang ultrasonik
Abstract
Metode Maserasi Berbantu Gelombang Ultrasonik untuk Ekstraksi Pigmen Merah-Ungu dari Enam Varietas Bayam Merah. Pewarna alami banyak digunakan untuk memberikan warna pada makanan. Bayam merah merupakan tanaman yang cocok digunakan untuk memberikan warna merah karena keberadaannya melimpah. Maserasi merupakan metode ekstraksi yang masih digunakan saat ini karena pengoperasiannya mudah. Namun demikian, metode maserasi membutuhkan optimalisasi karena penggunaannya membutuhkan waktu yang lama. Ekstraksi berbantu gelombang ultrasonik digunakan untuk memendekkan waktu ekstraksi. Pada penelitian ini, ektraksi pigmen merah ungu menggunakan metode maserasi untuk enam varietas bayam merah telah dilakukan. Variasi perbandingan bayam merah dengan campuran larutan etanol 96% dan asam sitrat 10% adalah 1:7, 1:9, 1:11, dan 1:13. Absorbansi tertinggi untuk Delima, Abbang, Baret Merah, dan Mira diperoleh dari perbandingan massa/pelarut 1:7, sementara untuk Red dan Clara dari 1:9. Perbandingan massa/pelarut optimum untuk setiap varietas kemudian digunakan pada ekstraksi berbantu gelombang ultrasonik. Ekstraksi dilakukan pada 5, 10, dan 15 menit. Pada varietas Red, Abbang, Baret Merah, Mira dan Clara, absorbansi pigmen merah-ungu tertinggi didapatkan pada waktu 15 menit sementara Delima pada 5 menit. Hasil penelitian menunjukkan bahwa ekstraksi berbantu gelombang ultrasonik pada pigmen merah-ungu dari bayam merah lebih efektif daripada maserasi 24 jam.
References
Amchova, P., Kotolova, H., dan Ruda-Kucerova, J. (2015). Health Safety Issues of Synthetic Food Colorants. Regul. Toxicol. Pharmacol., 73(3), 914 – 922. https://doi.org/10.1016/j.yrtph.2015.09.026.
Cacace, J.E. dan Mazza, G. (2003). Mass Transfer Process During Extraction of Phenolic Compounds from Milled Berries. Journal of Food Engineering, 59, 379–389. https://doi.org/10.1016/S02608774(02)00497-1.
Demirdöven, A., Özdogan, K., dan Erdogan-Tokatli, K. (2015). Extraction of Anthocyanins from Red Cabbage by Ultrasonic and Conventional Methods: Optimization and Evaluation. Journal of Food Biochemistry, 39, 491 – 500. https://doi.org/10.1111/jfbc.12153.
Dhawan, D., dan Gupta, J. (2016). Comparison of Different Solvents for Phytochemical Extraction Potential from Datura metel Plant Leaves. Int. J. Biol. Chem., 11(1), 17-22. DOI: 10.3923/ijbc.2017.17.22.
Dutta, B.K. (2007). Principles of Mass Transfer and Separation Processes. New Delhi, India: Prentice-Hall of India.
Feketea, G. dan Tsabouri, S. (2017). Common Food Colorants and Allergic Reaction in Children: Myth or Reality? Food Chemistry, 230, 578 – 588. https://doi.org/10.1016/j.foodchem.2017.03.043.
García-Falcon, M.S., Pérez-Lamela, C., Martínez-Carballo, E., and Simal-Gándara, J. (2007). Determination of Phenolic Compounds in Wines: Influence of Bottle Storage of Young Red Wines on Their Evolution. Food Chemistry, 105, 248–259. https://doi.org/10.1016/j.foodchem.2006.11.006.
Giusti, M.M. dan Wrolstad, R.E. (2001). Characterization and Measurement of Anthocyanins by UV-Visible Spectroscopy. Current Protocol in Food Analytical Chemistry, 00(1), F.1.2.1 – F.1.2.13.
https://doi.org/10.1002/0471142913.faf0102s00.
Golmohamadi, A., Möller, G., Powers, J., dan Nindo, C. (2013). Effect of Ultrasound Frequency on Antioxidant Activity, Total Phenolic, and Anthocyanin Content of Red Raspberry Puree. Ultrasonic Sonochemistry, 20, 1316 – 1323. DOI: 10.1016/j.ultsonch.2013.01.020.
Hake, S. dan Quinn, J. (2008). Anthocyanin Colorants from Fruits and Vegetables dalam Color Quality of Fresh and Processed Foods, Editor: Culver, C.A. dan Wrolstad, R.E. Michigan: American Chemical Society.
Herodež, Š.S., Hadolin, M., Škerget, M., dan Knez Ž. (2003). Solvent Extraction Study of Antioxidants from Balm (Melissa officinalis L.) leaves. Food Chemistry, 80, 275-282.
https://doi.org/10.1016/S0308-8146(02)00382-5.
Joshi, V. K. dan Preema Devi, M. (2014). Optimization of Extraction Treatment and Concentration of Extract on Yield and Quality of Anthocyanins from plum var. 'Santa Rosa'. IJNPR, 5(2), 171 – 175.
Khanh, N.D. (2015). Advances in the Extraction of Anthocyanin from Vegetables. Journal of Food and Nutrition Sciences, 3(1-2), 126 – 134. DOI: 10.11648/j.jfns.s.2015030102.34.
Pebrianti, C., Ainurrasyid, R.B., and Purnamaningsih, S.L. (2015). Uji Kadar Antosianin dan Hasil Enam Varietas Tanaman Bayam Merah (Alternanthera amoena Voss). Jurnal Produksi Tanaman, 3(1), 27-33.
Pinela, J., Prieto, M.A., Pereira, E., Jabeur, I., Barreiro, M.F., Barros, L., dan Ferreira, I.C.F.R. (2019). Optimization of Heat- and Ultrasound-assisted extraction of anthocyanins from Hibiscus sabdariffa calyces for Natural Food Colorants. Food Chemistry, 275, 309 – 321. https://doi.org/10.1016/j.foodchem.2018.09.118.
Rachmania, N. dan Ashari, S. (2019). Seleksi Tanaman Bayam Merah (Amaranthus Tricolor L.) Lokal Malang. Jurnal Produksi Tanaman, 7(4), 720-727.
Saini, R.K. dan Keum Y.S. (2018). Carotenoid Extraction Methods: A Review of Recent Development. Food Chemistry, 240, 90 – 103. https://doi.org/10.1016/j.foodchem.2017.07.099.
Sigurdson, G.T., Tang, P., dan Giusti, M.M. (2001). Natural Colorants: Food Colorants from Natural Sources. Annu. Rev. Food Sci. Technol., 8, 261 – 280. DOI: 10.1146/annurev-food-030216-025923.
Silva, S., Costa, E.M., Calhau C., Morais R.M., dan Pintado, M. (2017). Anthocyanin Extraction from Plant Tissues: A Review. Critical Reviews in Food Science and Nutrition, 57(14), 3072 – 3083. DOI: 10.1080/10408398.2015.1087963.
Voith, M. (2008). Coloring Food, Naturally. Chem. Eng. News, 86(50), 18 -19.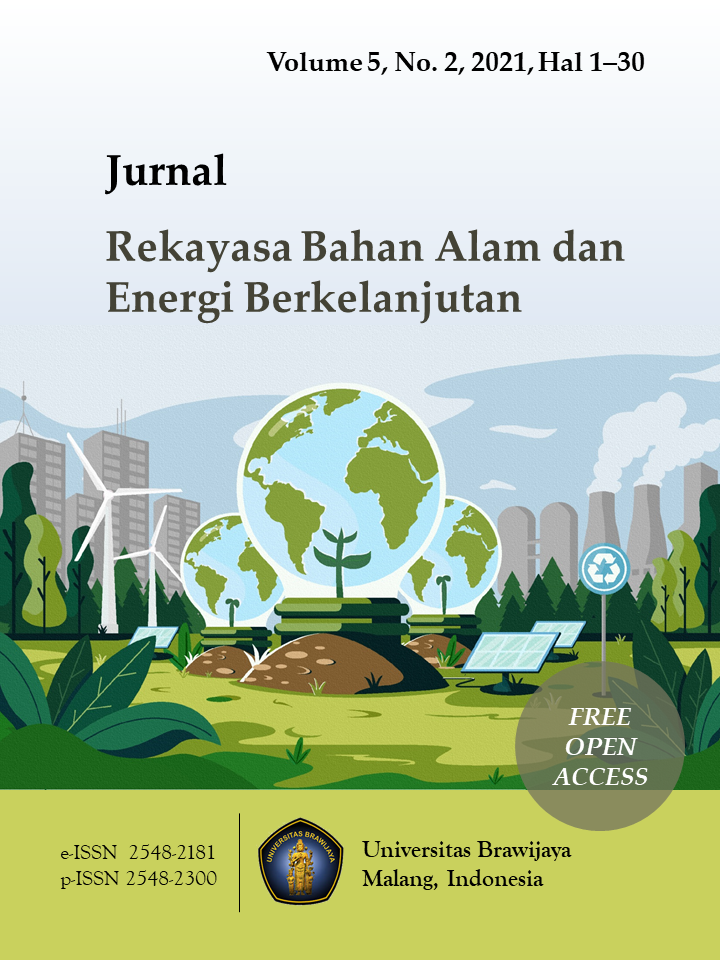 Downloads
How to Cite
Dinira, L., Rosyida, N., & Wulandari, E. R. N. (2021). Metode Maserasi Berbantu Gelombang Ultrasonik untuk Ekstraksi Pigmen Merah-Ungu dari Enam Varietas Bayam Merah. Jurnal Rekayasa Bahan Alam Dan Energi Berkelanjutan, 5(2), 10–15. Retrieved from https://rbaet.ub.ac.id/index.php/rbaet/article/view/108
License
Penulis yang naskahnya diterbitkan menyetujui ketentuan sebagai berikut:
Hak publikasi atas semua materi naskah jurnal yang dipublikasikan dalam Jurnal RBAET ini dipegang oleh dewan redaksi dengan sepengetahuan penulis (hak moral tetap milik penulis naskah).
Ketentuan legal formal untuk akses artikel digital jurnal elektronik ini tunduk pada ketentuan lisensi Creative Commons Attribution-ShareAlike (CC BY-SA), yang berarti Jurnal RBAET berhak menyimpan, mengalih media/format-kan, mengelola dalam bentuk pangkalan data (database), merawat, dan mempublikasikan artikel tanpa meminta izin dari Penulis selama tetap mencantumkan nama Penulis sebagai pemilik Hak Cipta.
Naskah yang diterbitkan/dipublikasikan secara cetak dan elektronik bersifat open access untuk tujuan pendidikan, penelitian, dan perpustakaan. Selain tujuan tersebut, dewan redaksi tidak bertanggung jawab atas pelanggaran terhadap hukum hak cipta.