Pengaruh Waktu Ekstraksi pada Pektin Ampas dan Kulit Buah Melon (Cucumis Melo L. var. Sky Rocket)
Keywords:
Melon pulp, Melon peel, Reflux Extraction, Pectin, Methoxyl content, Degree of Esterification
Abstract
The purpose of this study was to determine the effect of extraction time on yield, methoxyl content and degree of esterification. In this study, the raw materials used are melon pulp and peel. The process of obtaining pectin from raw materials is reflux extraction with the extraction time of 60, 90, and 120 minutes using citric acid pH 2.5 as a solvent. The result shows pectin yield for each extraction time of 60, 90, and 120 minutes to be 4.16%, 11.91%, and 5.49% for melon pulp and 2.29%, 6.86%, and 3.57% for melon peel, respectively. Methoxyl content of pectin increases with increasing extraction time to be 2.05%, 3.41%, and 3.78% for melon pulp and 2.17%, 2.73%, and 3.72% for melon peel, respectively. Pectin esterification degree decreases with increasing extraction time to be 48.53%, 44%, and 33.52% for melon pulp and 46.67%, 39.29%, and 30.93% for melon peel, respectively. Methoxyl content value of <7% and esterification degree of <50% shows pectin obtained from this study is the low-methoxyl pectin.
References
Badan Pusat Statistik. 2017. Produksi Sayuran dan Buah-buahan Semusim di Jawa Timur Tahun 2008-2017.
Badan Pusat Statistik. 2019. Statistik perdagangan ekspor impor Indonesia Menurut Komoditi. Jakarta: Biro Pusat Statistik.
BeMiller, J. N.; Kumari, G. V. 1972. b-elimination in uronic acids: evidence for an ElcB mechanism. Carbohydrate. Res. 1972
Braverman, J.B.S., 1989. Citrus Products : Chemical Composition and Chemical Technology. Interscience Publisher Inc. New York.
Castillo-Israel K.A.T., Diasanta S.F., Lizardo M.D.B., Dizon R.C.M.E.I., Mejico M.I.F. 2015. Extraction and characterization of pectin from Saba banana peel wastes: A preliminary study. Los Baños, Laguna, Philippines: University of the Philippines Press.
Constenla, D. & Lozano J.E.. 2006. Kinetic Model of Pektin' Demethylation. Latin American Applied Research.
Dachriyanus. 2004. Analisis Struktur Senyawa Organik Secara Spektroskopi. Cetakan I. Padang: Andalas University Press.
Dumitriu Severian. 1998. Polysaccharides: Structural Diversity and Functional Versatility. United States: CRC Press.
FAO. 2016. FAOSTAT. Italia: Food and Agriculture Organization of the United Nations, Roma.
Girma Ermias & Worku Teshome. 2016. Extraction and Characterization of Pectin From Selected Fruit Peel Waste. Samara University College of Engineering and Technology Department of Chemical dan Addis Ababa Institute of Technology, School of Chemical and Bio Engineering.
Haryati M.N. 2006. Ekstraksi dan Karakterisasi Pektin dari Limbah Proses Pengolahan Jeruk Pontianak. Bogor: Institut Pertanian Bogor.
IPPA: International Pectin Producers Association. 2001. What is pectin? Available online at URL http: //www.ippa.info/commercial production of pectin.htm. (Diakses: September 2020)
Kertesz Z.I. 1951. Pectic Subtances. New York: Interscience Publisher Inc.
Khamsucharit P., Laohaphatanalert K., Gavinlertvatana P., Sriroth K., Sangseethong K. 2017. Characterization of pectin extracted from banana peels of different varieties. New Delhi: Food Science and Biotechnology Department.
Omar S. R., Nurul Afiqah Md H., dan M. Najib Abdullah. 2020. Waste to Wealth: Optimizing Novel Pectin Acid Extraction from Honeydew (Cucumis Melo L. Var. Inodorous) Peels as a Potential Halal Food Thickener. Malaysia: International Fatwa and Halal Centre, Universitas Sains Islam.
Perina I., Satiruiani, Felycia E.S., Herman H. 2007. Ekstraksi Pektin dari Berbagai Macam Kulit Jeruk. Jurnal Widya Teknik Vol. 6.
Rolin C. 2002. Commercial pectin preparations. Pages 222-241 in: Pectins and their manipulation. CRC Press: Boca Raton, FL.
Ruslan, Nurhaeni, dan Budi Hermanto M. 2017. Optimalisasi Ekstraksi Pektin dari Kulit Buah Sukun (Artocarpus altilis). Palu: Jurusan Kimia, Fakultas Mipa, Uniersitas Tadulako.
Sharma B.R. dan Naresh L. 2006. An Overview on Pectins, Times Food Processing Journal, Issue. June-July, halaman 44-51.
Smidsrod O,. Haug. A. Larsen. B. 1966. The influence of pH on the rate of hydrolysis of acidic polysaccharides. Acta Chem. Scand.
Tanja W. 2014. Cellulose and Cellulose Derivatives in the Food Industry: Fundamentals and Applications. John Wiley & Sons.
Umoren, Saviour & Obot, Ime & Madhan kumar, A. & Gasem, Zuhair. 2015. Performance evaluation of pectin as ecofriendly corrosion inhibitor for X60 pipeline steel in acid medium: Experimental and theoretical approaches. Carbohydrate Polymers.
Widowati E., Rohula Utami, Edhi Nurhartadi, M.A. Andriani, Ambar Wuri Wigati. 2014. Produksi dan Karakterisasi Enzim Pektinase oleh Bakteri Pektinolitik dalam Klarifikasi Jus Jeruk Manis (Citrus cinensis). Jurnal Aplikasi Teknologi Pangan 3 (1) 16-20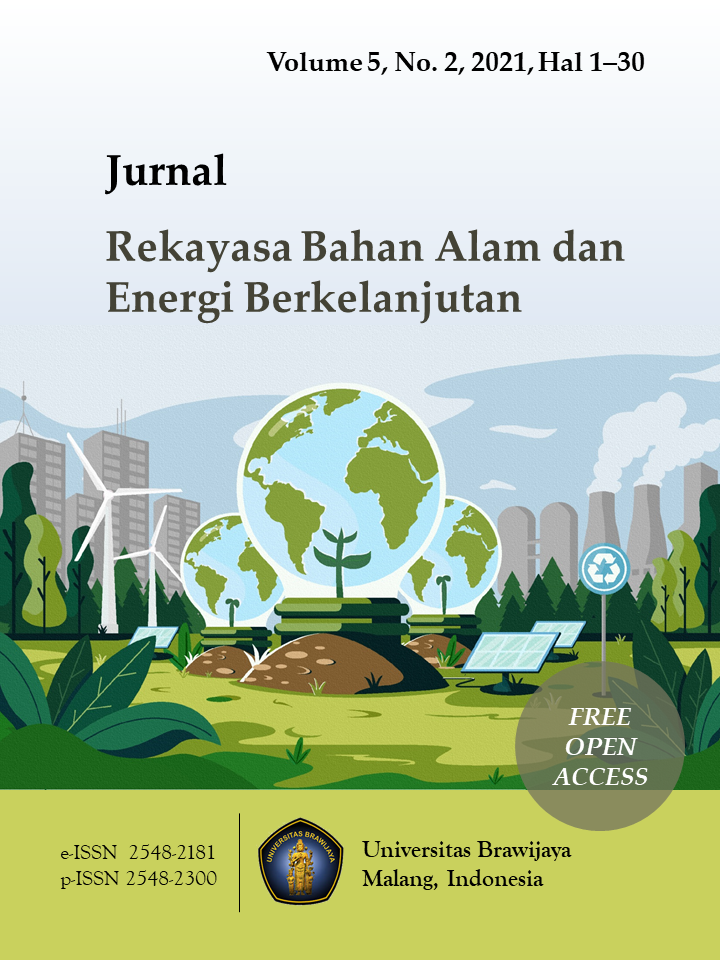 Downloads
How to Cite
Parasu, R., Aisyah, E. A., Nurhadianty, V., & Dewi, L. K. (2021). Pengaruh Waktu Ekstraksi pada Pektin Ampas dan Kulit Buah Melon (Cucumis Melo L. var. Sky Rocket). Jurnal Rekayasa Bahan Alam Dan Energi Berkelanjutan, 5(2), 24–30. Retrieved from https://rbaet.ub.ac.id/index.php/rbaet/article/view/112
License
Penulis yang naskahnya diterbitkan menyetujui ketentuan sebagai berikut:
Hak publikasi atas semua materi naskah jurnal yang dipublikasikan dalam Jurnal RBAET ini dipegang oleh dewan redaksi dengan sepengetahuan penulis (hak moral tetap milik penulis naskah).
Ketentuan legal formal untuk akses artikel digital jurnal elektronik ini tunduk pada ketentuan lisensi Creative Commons Attribution-ShareAlike (CC BY-SA), yang berarti Jurnal RBAET berhak menyimpan, mengalih media/format-kan, mengelola dalam bentuk pangkalan data (database), merawat, dan mempublikasikan artikel tanpa meminta izin dari Penulis selama tetap mencantumkan nama Penulis sebagai pemilik Hak Cipta.
Naskah yang diterbitkan/dipublikasikan secara cetak dan elektronik bersifat open access untuk tujuan pendidikan, penelitian, dan perpustakaan. Selain tujuan tersebut, dewan redaksi tidak bertanggung jawab atas pelanggaran terhadap hukum hak cipta.